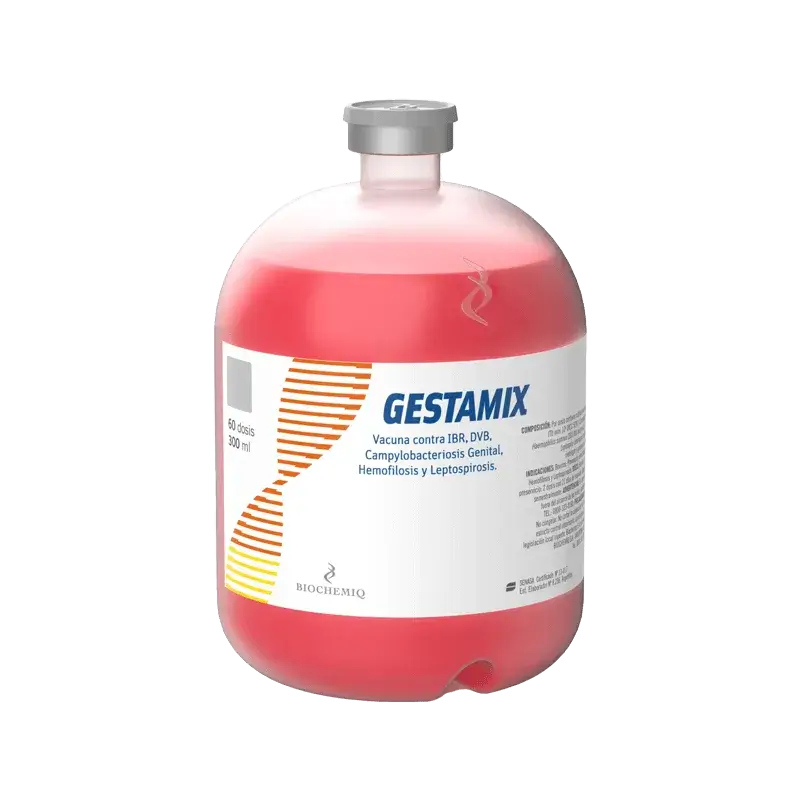 Vaccine against IBR, DVB, Genital Campylobacteriosis, Hemophilosis and Leptospirosis.
Maximum protection against reproductive diseases. The optimal combination of antigens and molecular controls makes its application ideal for the prevention of reproductive diseases in breeding herds and dairy farms, especially in animals where these pathologies produce reductions in the percentages of pregnancy and calving.
Dose
5 ml.
Subcutaneous route
Administration
Pre-service females: 2 doses 21 days apart. Allow 10 days to elapse before service. Revaccinate semi-annually.
Content
Box containing 1 bottle of 125 ml / 25 doses – 300 ml / 60 doses
Composition
Inactivated cultures of HVB type I, DVB, Capmylobacter fetus sbsp. venerealis, Campylobacter fetus sbsp. venerealis biovar intermediate, Campylobacter fetus sbsp. Fetus, Histophilus somni (Haemophilus somnus) and Leptospira interrogans Pomona, and Icterohemorrhagiae; Adjuvant: aluminum gel.